How Do I Sign Up For A TierraNet Account?
We would like to thank you for selecting TierraNet as your service provider!
In this article, we are going to provide a few useful tips that may help you create your own TierraNet account.


Before you start using the services offered by TierraNet, you will need a TierraNet account to manage the services via it.
To begin with, navigate to the sign up page.
You can also reach this page by clicking "Login" in the upper-right corner of the TierraNet website and clicking "Create New Account" will take you to the account creation page:
Fill out the form being careful to remember your information to avoid login issues later on.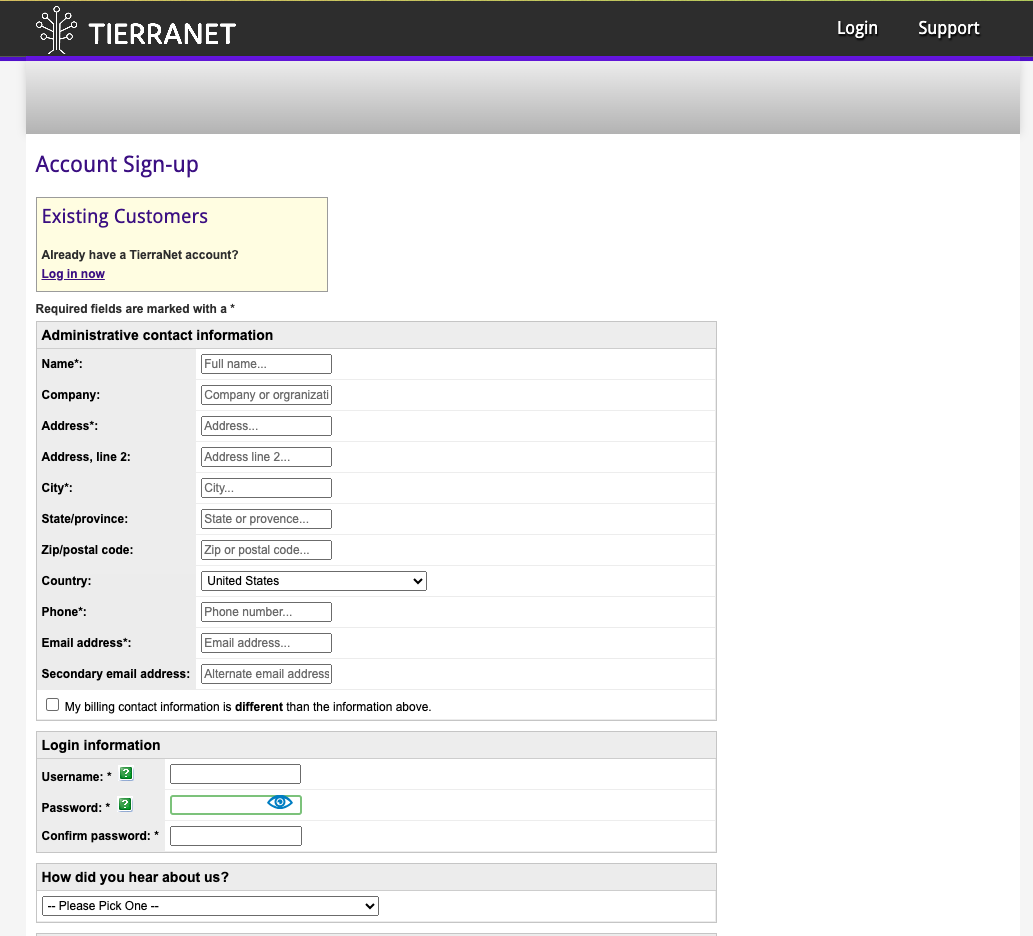 First and Last Name – The information filled in these forms is used for official correspondence with TierraNet. For example, your First name would be used to address you within the automated notifications.

Email address – The email address listed in the corresponding field would be your TierraNet account Primary email. This address will be used for Password Reset operations, receive Order Confirmation, and for other correspondence with TierraNet.
*If a domain-based email address (e.g., email@yourdomain.com) is set as a Primary email, it can be deactivated in case your domain expires or any email service issues occur.

Username – Your TierraNet account username is integral to your account. It is used as login while accessing the account, for verification purposes while contacting Support, and to associate services with your particular account. A TierraNet username has to be one word without spaces or you may use your email address (cannot be used for multiple accounts). It can contain numbers and Latin characters only.
Password – Your TierraNet account password is the first layer of security for your account.
We strongly advise to use a strong password, also, it must not be shared with third-parties.


*By creating an account, you agree with our Terms Of Service. Though the document may have a lot of information, it is advised to check the appropriate sections before proceeding with service purchase, as it describes cancellation, privacy, refund policies, etc.

Once you're happy you've filled everything in correctly, click the "Continue" button. An activation message gets sent to your email address and you can click on the "Activate Account" link or add the activation code to your account Dashboard.

That's it! Your account is created and ready to use now.


How do I configure Two-Factor Authentication (2FA)?
What Hosting Packages are offered through TierraNet?